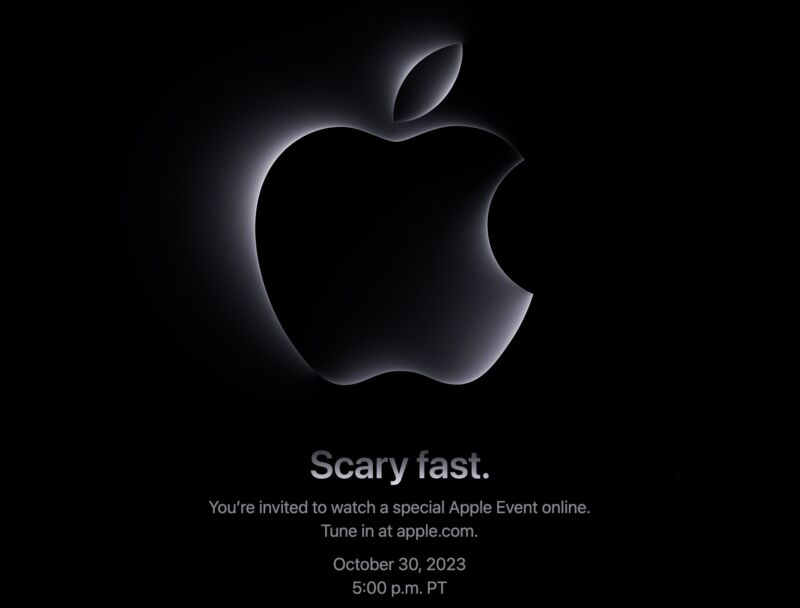 Apple is squeezing one more round of product announcements into October after all. The company announced today that it would be streaming a product event at 5 pm Pacific/8 pm Eastern on October 30, unusually late in the day (and in the month) for an Apple event. The "Scary Fast" tagline doesn't give away anything about what Apple plans to announce, but both history and well-sourced Apple reporters and analysts suggest that the company will focus mostly on the Mac.
As Bloomberg's Mark Gurman pointed out yesterday, the iMac and all three sizes of MacBook Pro have longer-than-usual shipping times listed on Apple's website, which often indicates that a refresh is imminent. I'd guess that having an actual livestreamed product event—rather than just announcing the new products via press release, as Apple did with the new Apple Pencil last week—increases the likelihood that any new Macs will come with next-generation M3 chips. Analyst Ming-Chi Kuo believes that Apple will focus on M3 MacBook Pros at the event, although as recently as two weeks ago he didn't think Apple had anything left to announce this year.
These new MacBook Pros would be coming just 11 months after the M2 refresh for those Macs, which launched back in January. But it's worth noting that these Macs were probably meant to be released in late 2022, based on the original URL of their announcement video. It's not that the M3 MacBooks Pro are a little early; it's probably that the M2 versions were a little late.
As for the iMac, it has been nearly two and a half years since Apple introduced the original Apple Silicon model, and it's the only kind of Mac that hasn't gotten some flavor of M2 chip (not counting the M1 MacBook Air, which was kept in the lineup as a budget model when the M2 Air was released). Any kind of refresh, particularly an M3 version, would be welcome. But Kuo and Gurman both agree that a true replacement for the high-end 27-inch iMac won't arrive before 2024, at the earliest.
Apple's M3 is expected to be built on a 3 nm TSMC manufacturing process, the same as the iPhone 15 Pro's A17 Pro chip. To refresh the iMac and all three MacBook Pro sizes, Apple would likely need to announce the standard M3 as well as the M3 Pro and M3 Max, chips that have all appeared in developer logs at some point in the past year. All three of these chips are expected to improve performance by adding more CPU and/or GPU cores, in addition to whatever performance and efficiency gains Apple can get out of revising its CPU and GPU architectures. The new manufacturing process should also allow Apple to improve the chips' efficiency, increasing their performance without increasing their overall power consumption.