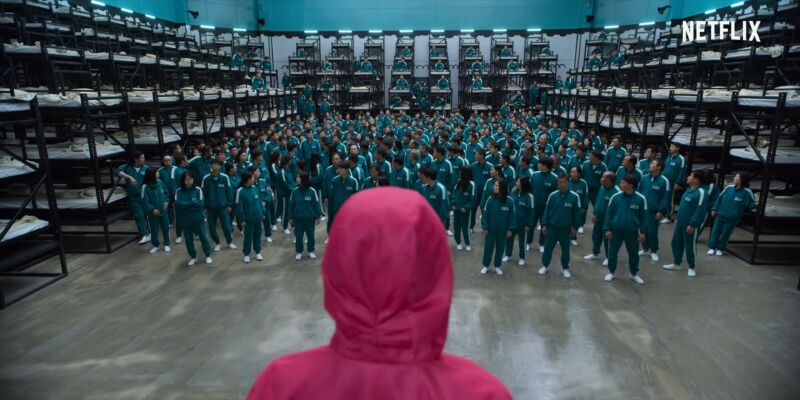 "Netflix and chill" usually implies a cozy night in with a companion and no one else in your living room besides those on your TV screen. In 2025, the term could start taking on an opposite meaning, as Netflix opens physical stores with merchandise and activities inspired by its content.
Netflix House will debut in two undetermined cities in the US before expanding globally, Josh Simon, Netflix VP of consumer products, told Bloomberg yesterday. Netflix House will be the streaming company's first permanent retail location and will seek to promote fandom around its original programming.
Netflix didn't disclose many specifics about what customers will be able to do there beyond buying Stranger Things T-shirts (presumably) and other merch. By far the most exciting aspect teased is the potential for a real-life Squid Game obstacle course.
According to Bloomberg, the stores will let fans "immerse themselves in the worlds of their favorite TV shows, shop for clothing, eat themed food, and maybe even try a Squid Game obstacle course." There's already a limited-time "Squid Game: The Trials" experience opening in Los Angeles in December. Netflix said it will have "a series of escalating challenges, accumulating points as you advance."
Netflix hasn't decided where it's putting its stores but said it will include different live experiences, like ticketed shows and restaurants with food from Netflix shows.
The permanent locations follow Netflix launching 40 pop-up experiences across 20 cities over the years, Bloomberg noted. That includes Netflix Bites, which opened in Los Angeles in June to offer menus created by chefs from Netflix shows like Iron Chef: Quest for an Iron Legend.
Netflix at the Grove temporarily opened in Los Angeles in October 2022 to sell Netflix fandom gear, from Hellfire Club raglan shirts to Inside Bridgerton books and the ability to take pictures with "vignettes" with "life-size versions" of Netflix characters, as per the company's announcement. Netflix has also launched ticketed pop-ups, like The Queen's Ball: A Bridgerton Experience.
Despite Netflix's 2023 ad business (ad-tier subscribers and ad revenue) falling behind expectations by about 50 percent so far, per The Information, Netflix House is reportedly less a revenue push and more about marketing. Disney, now a streaming rival to Netflix, already has this built in with its iconic theme parks. Netflix, meanwhile, hasn't traditionally spent a lot on marketing, to the dismay of filmmakers and producers working with the streamer—although it has been trying to improve that lately. Building up fandom could be one small way for Netflix to differentiate itself from its heightened number of streaming competitors.
On the revenue side, Netflix is expected to raise its prices after the Hollywood strikes end, as per a Wall Street Journal report last week.