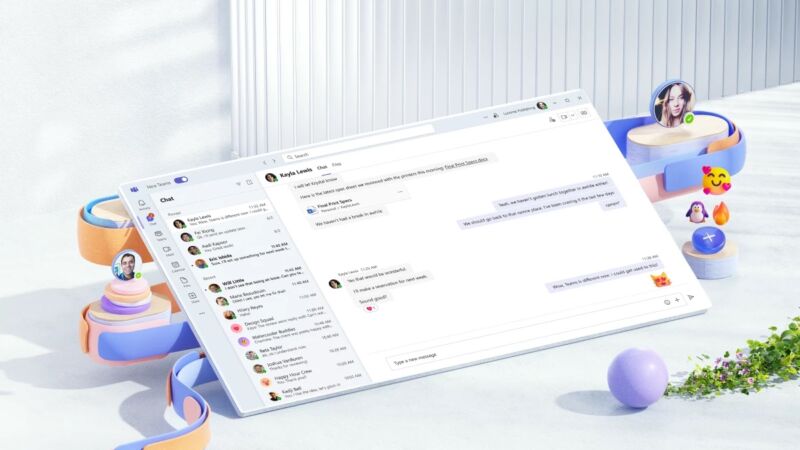 If you or your employer uses Microsoft Teams for communication, good news: Microsoft is releasing a fully rewritten version today for Windows PCs and Macs that promises to run faster while using fewer system resources.
A preview of this app was originally released for Windows in March, but the final release covers all types of Teams instances, re-adds support for features like breakout rooms and third-party app support, and supports macOS.
The new Teams app is notable for improved performance and reduced disk space usage, especially when running on Windows PCs. Microsoft says that the reformulated version of Teams is "up to two times faster while using 50 percent less memory" on Windows systems. That sound you hear is old and underspecced work PCs in offices around the world breathing a sigh of relief.
Microsoft credits its Edge WebView2 backend with helping improve performance and reduce disk usage on Windows. That's possible partly because WebView2 can use many of the same system files and the same runtime as the Edge browser built into Windows 10 and Windows 11.
The older Teams app used the Electron framework, also used by communication apps like Slack and Discord. Though Electron and WebView2 are based on the Chromium browser engine, each Electron app includes its own self-contained version of the browser files, which all must be stored and updated separately.
Macs don't benefit quite as much from the new app since, unlike Windows, they don't have any of the Edge WebView2 files built-in—a WebView2 app on macOS is a lot like an Electron app, in that it includes its own dependencies and needs to update them separately from other WebView2 apps on the same system. But Microsoft still says the new app should improve Mac performance by making it faster to switch channels, improving scrolling performance, more efficiently using device resources, and optimizing the "Teams experience even when using multiple high-resolution monitors during calls or meetings."
The old Teams app has a toggle in the upper-left corner that will automatically switch you over to the new app. All users of the current Teams app will be upgraded to the new one "in the coming months."
Though development of the Teams app continues apace, Microsoft has been facing scrutiny for how it bundles Teams with its other products. In response to complaints from Slack and a regulatory investigation, the company has unbundled Teams from its other Microsoft 365 products in Europe. The version of Teams that is currently built into Windows 11 (and even present on the taskbar by default) is also being removed from the OS starting this fall.
Listing image by Microsoft