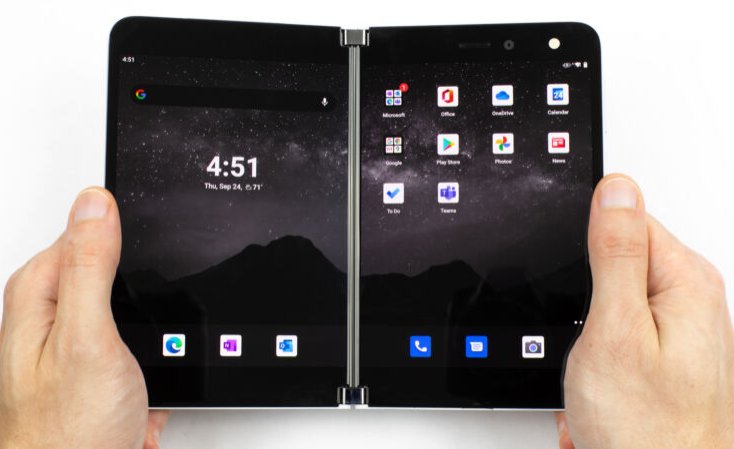 RIP to the Surface Duo 1. As spotted by Windows Central, Microsoft is killing off support for its first self-branded Android phone. The device was an unmitigated disaster, and now the "three year" update plan, which only featured two exceedingly late major OS updates, means the Surface Duo will go down in history as the worst-supported premium Android phone ever. The $1,400 device never ran a current version of Android.
Things were weird with the Surface Duo from the very start. Microsoft unveiled the phone in October 2019 and didn't ship it until September 2020. After a long wait, the phone debuted to mostly negative reviews. Android couldn't take advantage of the ultra-fat 4:3 displays, and having two of them didn't help much when it made things like typing extremely difficult (there was no split keyboard). A massive amount of software issues made it the buggiest device in recent memory and coupled with the sky-high price, the sales pitch was not great. It was pretty to look at, though.
The fire sale started almost immediately. The phone had a $200 price drop a month after its launch, then a 50 percent price drop to $699, and eventually a 70 percent collapse to $409—an incredible $1,000 off the MSRP. Inexplicably, a second version was made, and support for that device ends in October 2024. It looks like a third version, at least following this form factor, is not in the cards.
Microsoft's ability to update Android was just as much of a disaster. The Surface Duo 1 launched in September 2020 with Android 10, an OS that had come out in September 2019, and at a time when Android 11 had already launched. The Surface Duo 1 got its first major update 16 months after launch when Microsoft replaced its 2-year-old OS with a 1-year-old OS and finally shipped Android 11 in January 2022. Android 12L arrived on the device in October 2022, at which point 12L was also a year old and Android 13 was shipping.
That was it. That and some monthly security updates are what Microsoft is calling "three years of updates." Companies on the margins like to keep these Android update promises vague by using "years" instead of an actual number of major updates, so can you ever technically say they didn't live up to the promise? Usually, three years of updates means three major OS updates, not two, and it usually means you get OS versions when they are new, not a year old, and not even the latest version. Even in the bad old days, Samsung, at its very worst, took six to nine months to update a device, and that was years ago. Today, Samsung takes around three months.
As someone who regularly tracks this stuff, this is easily the worst update plan any premium Android phone has ever received. Even many budget phones do better than this.
Microsoft can offer excuses as to why the Surface Duo 1 ended up like this. It wrote its own UEFI from scratch when this was originally meant to be a Windows device, and pivoting that to Android probably caused many problems. It was outsourcing its Android OS development and only brought development in-house (by acquiring the outsourced company) two months before the device's ship date At the end of the day, though, Microsoft still chose to ship this device for $1,400. In return, customers received a barely functional device and a worst-in-class update plan.