iPhone 15 release date, specs, rumors about when the new iPhone comes out – NBC US
Every year, Apple introduces a new iPhone line, and its introduction is the most important event in the Apple calendar. iPhone sales are at the heart of the company's portfolio and serve as the driver for accessories like Apple Watch and AirPods.
With just days to go until this year's iPhone 15 Wonderlust event, the rumors are heating up about what to expect with next year's iPhone 15 line. Here's what we've heard so far, and what we expect based on Apple's recent history.
Following WWDC on June 5 we have had a preview of a number of new features and apps coming to the iPhone software in iOS 17, from new apps including Standby (which borrows from the Apple Watch to create an alarm clock on your bedside table experience), to the Journal app (which will enhance Photos memories and mix in other kinds of media), to Live Voicemail and the ability to leave messages in FaceTime. Safety features such as the ability to track someone on their way home and improvements to the way AirDrop works. Also of interest will be the new features coming in the Apple Vision Pro headset, and any impact they could have on the future of the iPhone.
But what you are interested in is what the new iPhone will be like and when the new iPhone is coming out, and we are here to answer those questions.
Updated September 8 The latest from Mark Gurman at Bloomberg affirms previous rumors. All the action is on the Pro models, with slimmer bezels, better cameras, enhanced telephoto on the Pro Max model, titanium, USB-C, the 3nm A17, the Action Button, and more. The non-pro models get the A16, Dynamic Island, and a 48 megapixel main camera.
Rumors at a glance
iPhone 15: 6.1-inch display but Dynamic Island and smaller bezels, A16 processor, 6GB LPDDR5 RAM, better batteries, U2 chip, USB-C replacing Lightning, mute switch replaced with solid-state button, green, yellow, and pink color choices.
iPhone 15 Plus: 6.7-inch display with Dynamic Island and smaller bezels, A16 processor, 6GB RAM LPDDR5 RAM, better batteries, U2 chip, USB-C replacing Lightning, mute switch replaced with solid-state button, green, yellow, and pink color choices.
iPhone 15 Pro: same 6.1-inch display with ProMotion and Dynamic Island, slimmer bezels and rounded corners, A17 processor, 8GB RAM, 2TB option, better batteries, U2 chip, USB-C replacing Lightning, mute switch replaced with Action button, 'Titan Gray' color option.
iPhone 15 Pro Max (or Ultra): same 6.7-inch display with ProMotion and Dynamic Island, slimmest bezels and rounded corners, A17 processor, 8GB RAM, 2TB option, better batteries, U2 chip, USB-C replacing Lightning, mute switch replaced with Action button, periscope lens with 6x optical zoom, support for 8K video recording, new Titan Gray color, higher price.
iPhone 15: Release date
Apple has announced Tuesday, September 12 as the date for its annual iPhone event, which will be called "Wonderlust." Based on that, we expect preorders to begin on Friday, September 15, and the phones to arrive on Friday, September 22.
Here's when the last few generations arrived in stores:
iPhone 14, Pro, and Pro Max: September 16, 2022. iPhone 14 Plus, October 7, 2022
iPhone 13, mini, Pro, and Pro Max: September 24, 2021
iPhone 12 and Pro: October 23, 2020. iPhone 12 mini and Max: November 6, 2020
iPhone 11, Pro, and Pro Max: September 20, 2019
iPhone XS and Max: September 21, 2018
Some rumors have suggested that there could be a split on-sale date in 2023, with certain models shipping later than others (as was the case in 2022 and 2020). However, a report in August 2023 claimed that all four models would ship at the same time, though it's possible that supplies of the iPhone 15 Pro Max will be constrained at launch.
iPhone 15: Price
With the iPhone 14 models, Apple kept the price the same in the U.S., but thanks to exchange rates and inflation, had to raise prices in the U.K. and many other countries. For reference, here's the pricing on the iPhone 14 line:
iPhone 14: $799/£849
iPhone 14 Plus: $899/£949
iPhone 14 Pro: $999/£1,099
iPhone 14 Pro Max: $1,099/£1,199
For 2023 rumors point to a higher price for the Pro and Pro Max, but a lower price for the Plus models.
If Apple does indeed re-brand the iPhone 15 Pro Max as the iPhone 15 Ultra (see below) and give it some exclusive new features, we think that will prove enough of an excuse to raise prices on that model, perhaps $100/£100. In fact, in July 2023 Barclays analyst Tim Long suggested that the price hike for the Pro Max could be $200.
A tweet by LeaksApplePro in November 2022 said it expects the iPhone 15 Ultra to "cost substantially more to manufacture than iPhone 14 Pro Max." That doesn't necessarily mean it will cost more, but it's a good indication that it might.
On the other hand, a rumor in December claimed that Apple is "seriously" considering a price cut to the iPhone 15 Plus following disappointing sales of the iPhone 14 Plus this year. However, it could be noted that with the iPhone 14 Plus costing $200 less than the iPhone 14 Pro Max, disappointing sales of one phone could result in better sales of the other.
A price drop for the iPhone 15 Plus should also result in a price cut for the iPhone 15. When Apple removed the cheaper iPhone mini from the lineup with the iPhone 14 it effectively raised the starting price of the lineup, so a lower price for the iPhone 15 would be welcome.
Based on these claims, we've estimated the following prices for the iPhone 15 line-up:
iPhone 15: $749
iPhone 15 Plus: $849
iPhone 15 Pro: $1,099
iPhone 15 Pro Max: $1,299
iPhone 15 Ultra or iPhone 15 Pro Max
Now that Apple has introduced the Apple Watch Ultra, there are rumors that the company will extend the branding to the iPhone line with the iPhone 15 Ultra.
Those rumors date back to late 2022 and died away for a while after it was reported that Apple would stick to the Pro Max branding. However, as we approach the launch the rumor that Apple could launch an iPhone 15 Ultra has emerged again. According to Apple Insider's Andrew O'Hara on X (formerly Twitter), "Apple will indeed use the 'iPhone 15 Ultra' moniker for the plus-sized pro phone." However, Bloomberg's Mark Gurman is confident that the Ultra won't arrive until next year if at all.
The assumption is that the iPhone 15 Ultra would be the branding used for the variant, and there would be some sort of new features to differentiate it. Apple did this once before with the iPhone 12 Pro Max, which had a slightly better camera than the iPhone 12 Pro.
So most people expect that the camera will once again be the feature that sets apart the new Ultra phone, possibly with a better periscope telephoto camera (see below). The rumor mill has lots of other ideas for how Apple could make the Ultra version stand out, such as faster charging or more storage, but most of them aren't substantiated by any evidence.
This hypothetical iPhone 15 Ultra could otherwise be thought of as an iPhone 15 Pro Max–it is assumed to use the same processor, display, and design as the iPhone 15 Pro (though LeaksApplePro reports that it could have a titanium body like the Apple Watch Ultra).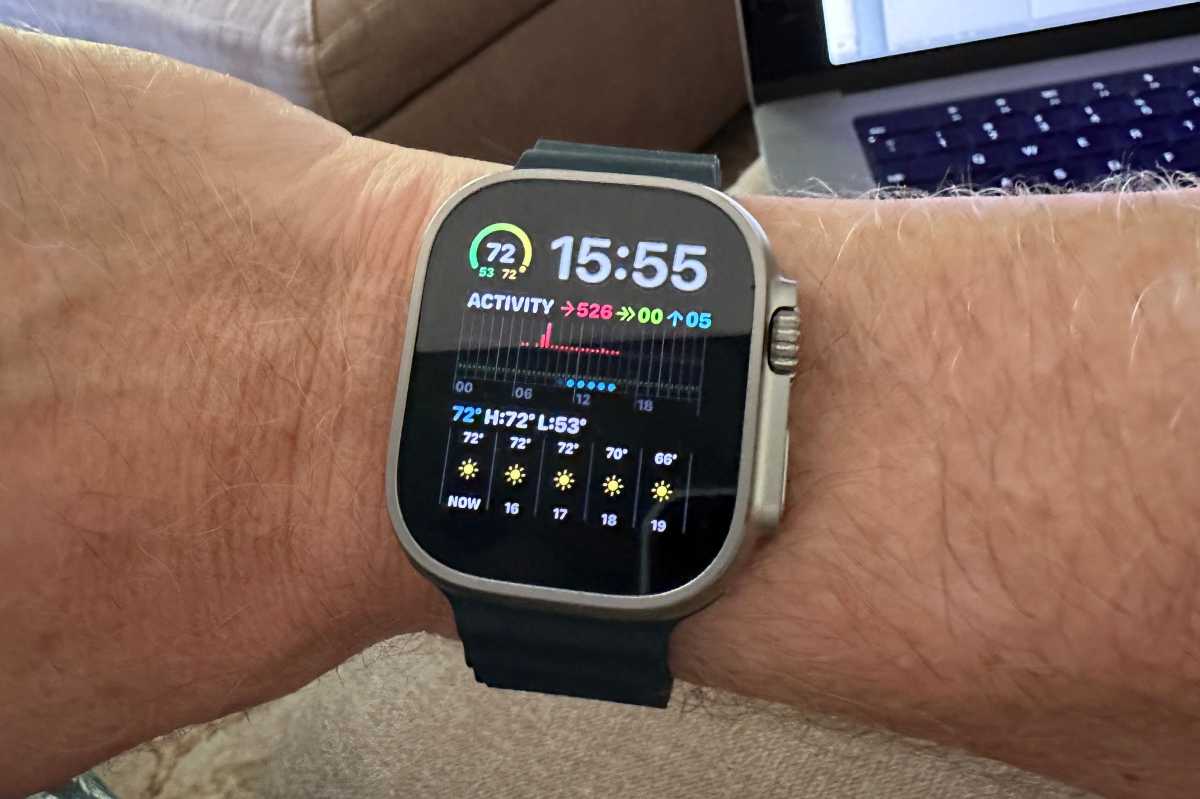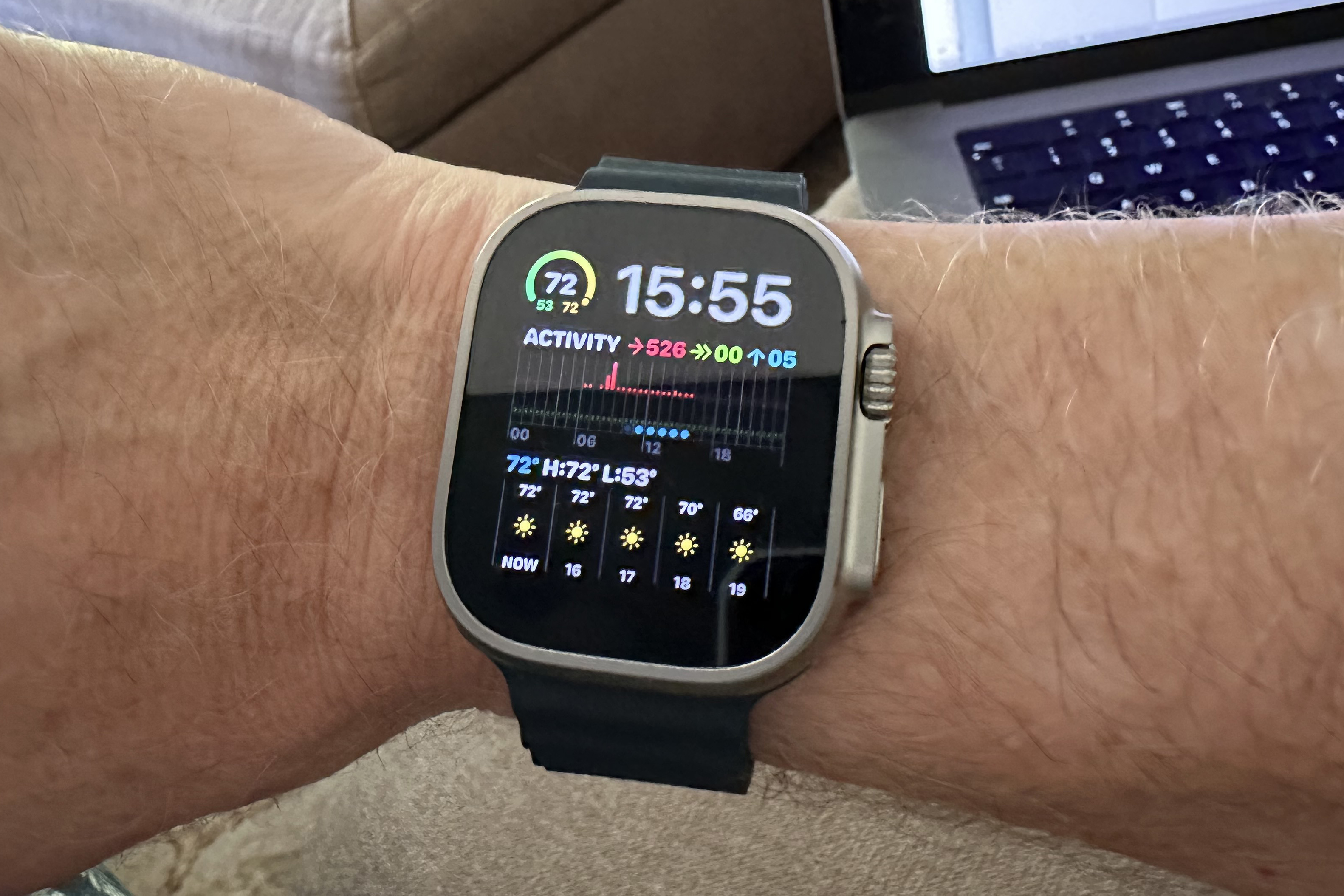 IDG
iPhone 15: Design
While Apple has kept the same general design since the iPhone 12, rumors suggest that a change may be in store for the iPhone 15. Here's what we're hearing about the look of the next iPhone.
In November 2022 ShrimpApple Pro tweeted that the iPhone 15 will be made from titanium instead of stainless steel. Titanium is strong, though not necessarily as strong as steel, but it is lighter. This new finish may be exclusive to the iPhone 15 Pro and Pro Max much like the Apple Watch Ultra. Several reports have corroborated these claims, so it's extremely likely the new Pro phones will have a titanium body.
Titanium could make the Pro phones much lighter as well. According to Revegnus on X, the iPhone 15 Pro Max will shed nearly 20 grams, which would make it the lightest 6.7-inch iPhone Apple has ever made.
According to ShrimpApplePro on Twitter, the iPhone 15 will feature "a new border design," a claim that has been backed up by leaked CAD designs. As the leaker explains, the back edge corners will "be rounded [like the iPhone 11] and not square [like the iPhone 14]". Based on the images below, it looks a bit like an updated version of the iPhone X but is still very similar to the iPhone 14.
We expect to see the same four general sizes: about 6.1-inch and 6.7-inch for both the iPhone 15 and iPhone 15 Pro.
Slimmer bezels
In February 9to5Mac obtained CAD files reported to be from the iPhone 15 enclosure, which shows a very slightly larger 6.2-inch display thanks to slimmer bezels. Also in February, iPhone 15 Pro CAD files showed a similar slimmer bezel, and an image leaked by Ice Universe in July 2023 also showed all four phone models with extremely thin bezels.
In August it was claimed that the iPhone 15 Pro and Pro Max will have the skinniest bezels of any smartphone ever.
Most reports say the bezels are a third slimmer than those on the iPhone 14 Pro. The non-Pro models of the iPhone 15 are expected to have bezels that match the current iPhone 14 Pro.
Ian Zelbo created the following renders for 9to5Mac:
9to5Mac
Colors
There will also obviously be new colors. A new Deep Red is could replace Deep Purple on the Pro and Pro Max, joining the white, black, and gold finishes. This red shade is said to be much darker than the Product RED color and more of a variation of the "sunset" color that was previously rumored for the iPhone 13.
However, a report in August 2023 by 9to5Mac claimed that the color options for the iPhone 15 Pro models will be more muted, with "Titan Gray" to replace the long-standing gold color, and a Midnight-style deep blue to replace purple.
In late August, leaker Sonny Dickson shared some images of dummy models of the iPhone 15 on X aka Twitter.
Apple is also said to be testing two new colors for the standard iPhone 15: pink and light blue. A report by ShrimpApplePro in July 2023 claimed that the new iPhone 15 colors will be green, yellow, and pink in addition to the standard black (Midnight), white (Starlight), and Product Red.
Action Button
According to a rumor from Ming-Chi Kuo from October 2022, Apple was planning to switch to solid-state buttons for the iPhone 15 Pro and Max/Ultra models, much like the Home button on the iPhone SE. At the time, Kuo said Apple will add a pair of Taptic engines on either side of the phone to mimic the feel of a clickable button like the MacBook trackpad.
However, later rumors suggested the new solid-state buttons may not materialize due to manufacturing and engineering hurdles.
A March 2023 set of reported CAD files revealed by ShrimpApplePro on Twitter show how the Pro models will have a single unified volume button and the mute switch replaced by a mute button. The new button will reportedly be customizable like the Action Button on the Apple Watch Ultra and will have different functions for different apps. The iOS 17 beta included some code that lists nine potential functions for the Action Button.
According to these leaked CAD files, the non-Pro models will continue to have two volume buttons and a mute switch.
In August Majin Bu tweeted an image of cases for the iPhone 15 Ultra models which apparently "show a third button that should replace the old mute switcher."
USB-C
All iPhone 15 models are expected to ditch the Lightning connector in favor of USB-C due to the European Union's new laws.
The EU is mandating that most portable electronics, including phones, have to standardize around USB-C for charging ports (if any–gadgets that only charge wirelessly like the Apple Watch don't need to add a USB-C port). This means Apple will have to transition several products over time, and instead of making special USB-C versions for Europe, will likely just change everything worldwide as we saw recently with the 10th-gen iPad and Siri remote.
Current iPhones use USB-C power adapters, so that won't change, just the USB-C to Lightning cable and the port on the iPhone itself. The upside? Potentially faster charging and faster data transfer speeds for those who plug their iPhones into their Macs or PCs. In fact, the USB-C iPhone 15 might finally deliver fast charging at 35W. Compared to a maximum of 20W on the iPhone 14 and 27W on the iPhone 14 Pro, 35W charging would represent a sizable improvement. It's possible this improvement will apply to certain models only, rather than to the entire 15-series.
There is of course the possibility that Apple's implementation of USB-C on the iPhone will require proprietary technology. Prolific leaker Majin Bu has posted photos of what could be internal components of the iPhone 15's new port design, they suggest that there is a new proprietary chip that seemingly controls the port. This could enable Apple to limit charging speeds depending on the iPhone model or cable.
There are suggestions that the iPhone 15 Pro will get USB 3.2 or Thunderbolt 3 support, with data transfer speeds of up to 20 or 40 Gbits per second. Faster charging speeds are a possibility but might require special USB-C cables.
CAD files obtained by 9to5Mac show a USB-C port on the iPhone 15.
While the USB-C port is slightly bigger than Lightning, it shouldn't affect the thickness of the iPhone or the design.
Dynamic Island
One significant change to the display on the non-Pro iPhones is that the Dynamic Island— that pill-shaped camera cutout that serves as an important interface element on iPhone 14 Pro–will come to all iPhone 15 models. That means the non-Pro iPhones will have the same look and interface.
Note that this doesn't mean that the iPhone 15 will get an always-on display or ProMotion, though. Those features are currently rumored to remain exclusive to the Pro models.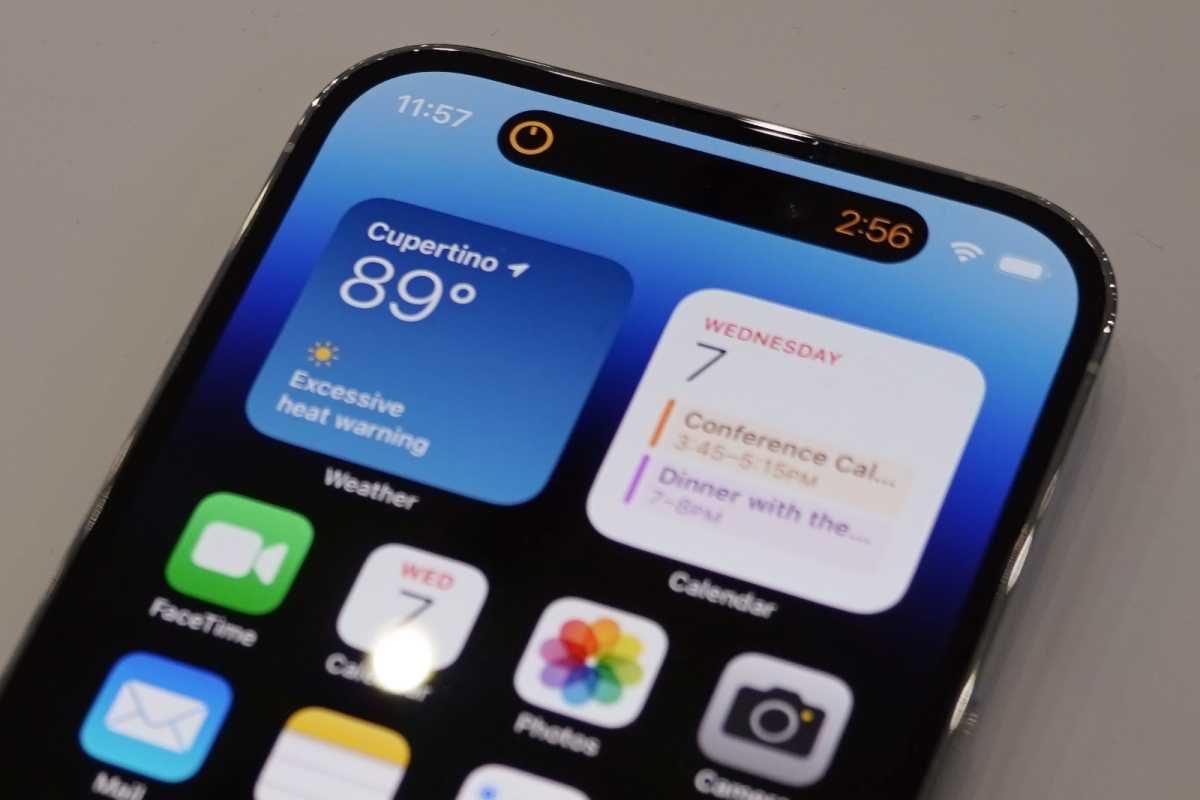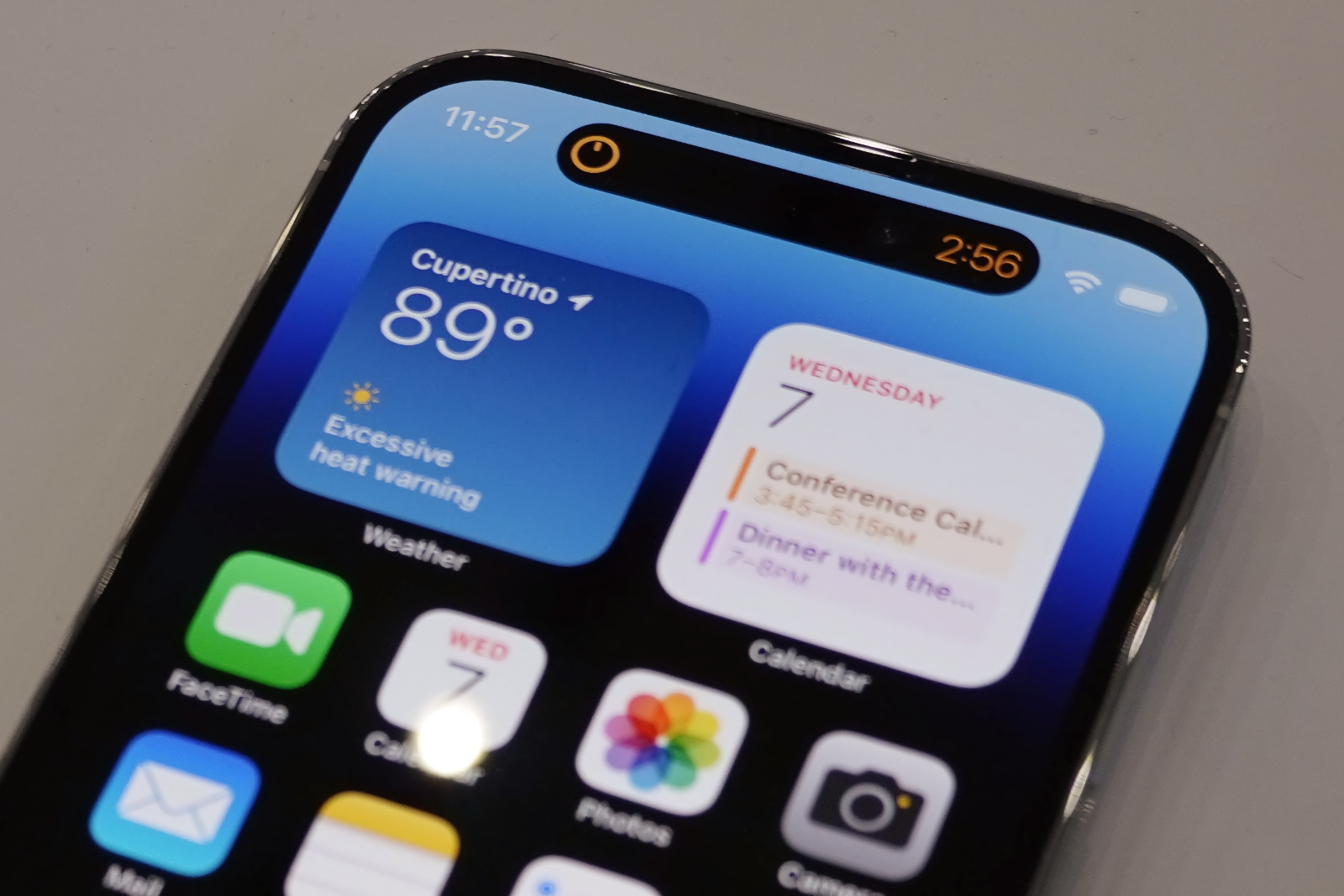 Jason Snell/Foundry
iPhone 15: Specs and features
Apple tests a lot of new technologies from a lot of suppliers, and over time little leaks can sometimes give us a clue as to what's coming in the next iPhone. These leaks are sometimes wrong, often misunderstood, and generally miss software innovations that accompany the new hardware (such as Dynamic Island, where we only heard about the "pill and hole" cutout and not how Apple intended to make use of it).
Here's what we currently expect to find inside the iPhone 15 line.
Camera and Periscope camera lens
Rumors have said that Apple has been working on a "periscope lens" to offer a much longer-range optical zoom. One of the difficulties of placing a long focal length telephoto lens in smartphones is simply that of available space. In order to get a larger zoom, you need a combination of lenses set at distances that, if they were assembled using the traditional smartphone camera layout, would result in an absurdly large camera bump. To combat this the periscope design uses mirrors–like in a periscope–to allow those lenses to run lengthwise along the phone. According to rumors, if this design is adopted then the iPhone could achieve an optical zoom closer to 6x, or somewhere in the 5x to 10x range. It seems that this new periscope lens will only appear in the larger iPhone 15 Pro Max (or Ultra).
This could still result in a much larger camera bump, with rumors claiming: "the camera bump will be bigger, and "the individual lens protrusion has more than doubled."
It's the same technology that allows the Samsung Galaxy S22 Ultra to achieve such a long zoom range. The S22 Ultra's cameras are much larger than the other models.
As for the cameras on the other phones, you'll probably still need an iPhone 15 Pro to take full advantage of the 48MP camera and the ProRAW format (which is required to capture full-sized 48MP photos). The Pro iPhones are still likely to be the only iPhones with LiDAR sensors (which can improve focus and portrait mode in dark environments, as well as being useful for AR apps).
In May 2023, analyst Jeff Pu, claimed the non-Pro iPhones will get a 48MP main camera like that on the iPhone 14 Pro. He says the new module will be slightly improved with a new triple-stacked sensor that can capture more light. According to Pu, this new design could possibly result in production delays for the iPhone 15 and 15 Plus.
The biggest camera improvements could come in the iPhone 16 series. Analyst Jeff Pu predicted in August 2023 that the iPhone 16 Pro will get a 48MP ultra-wide camera. The iPhone 14 Pro got a 48MP wide-angle camera. A 48MP ultra-wide camera would presumably bring similar results to the ultra-wide camera and possibly a larger aperture as well for better clarity in challenging light.
A17 processor
The next major processor manufacturing technology bump out of TSMC (the company that makes most of Apple's chips) wasn't ready yet for the A16. We think the A17 is likely to be one of the first mass-produced chips to use the chip manufacturer's 3nm process, which should allow more transistors in the same area, allowing Apple to cram in more features and better performance. Read more about How the A17 Bionic chip will take the iPhone 15 Pro to the next level.
Some information about this new chip has leaked. Leaker Unknownz21 says the A17 will have very similar specs to the A16 despite the new 3nm process. He claims the following specs:
A17
CPU cores: 6
GPU cores: 6
Clock speed: 3.7GHz
RAM: 6GB LPDDR5
A16
CPU cores: 6
GPU cores: 5
Clock speed: 3.46GHz
RAM: 6GB LPDDR5
That suggests the biggest difference is an extra GPU core. But the 3nm process will likely bring much more.
The 3nm process should bring more power efficiency, and the numbers quoted above don't speak to those gains.
Unfortunately, there is unlikely to be a massive shift in battery life. We may see some improvement is in standby mode though. While the A16 was about 16 billion transistors, we can expect well over 20 billion for the A17. Along with this higher transistor budget, it seems ARM v9 instruction set support is likely. Apple's new CPU cores for the A17 will almost certainly be faster, but not necessarily because of the shift to ARM v9
With the iPhone 14 line, Apple reserved its new A16 for the Pro models and used the A15 again on the non-Pro models. We think that's likely to continue in 2023, with the standard iPhone 15 using the A16 processor and the iPhone 15 Pro using the new A17.
Memory and storage
After the iPhone 14 Pro kept the same 6GB of memory as the iPhone 13 Pro, Trendforce reports that the iPhone 15 Pro/Ultra models will get 8GB of RAM, although leaker Unknownz indicates that 8GB of RAM is "maybe not impossible," the leaker has "only seen 6GB so far; 8GB seems unlikely."
The non-Pro models are expected to have the same 6GB of RAM as this year, but they may adopt the LPDDR5 RAM from the iPhone 14 Pro.
Rumors have pointed to a 2TB option that will be available for the iPhone 15 Pro's storage, double the amount available on any iPhone before. In August yeux1122 made this claim on Weibo.
Battery life
Amid reports that the battery health of iPhone 14 series phones has declined faster than previously, there will be hope that the new iPhones will sport improvements in that area. iPhone 14 series owners are reporting that battery health has declined during the first year of ownership, in some cases by 10%.
A Weibo report from an alleged Foxconn source in July 2023 stated that every model of the iPhone 15 will have a bigger battery when they launch in September.
The report claims the following:
iPhone 15: 3,877mAh (up from 3,279mAh)
iPhone 15 Plus: 4,912mAh (up from 4,325mAh)
iPhone 15 Pro: 3,650mAh (up from 3,200mAh)
iPhone 15 Pro Max: 4,852mAh (up from 4,323mAh)
If this is true this 11 to 18 percent increase in battery capacity could result in an increase of several hours of battery life. However, the source of the rumor backtracked a bit after the rumor gained traction. A follow-up rumor in July 2023 predicted that Apple will use a new "stacked" design for the iPhone 15 battery, which may bring increased capacity and efficiency.
Another leaker RGcloudS claimed in July that Apple is using a stacked battery design for the iPhone 15, which could allow for bigger capacities. However, a rumor in September 2023 claimed that the iPhone 15 Pro Max's battery would be only slightly larger than the iPhone 14 Pro Max, though didn't reference the other models.
Wi-Fi and 5G
Apple has been working on its own cellular modem for years now, having acquired Intel's modem unit in 2019 for $1B. While it was originally rumored that Apple could have a competitive 5G capable cellular modem ready in time to be part of the iPhone 15, recent rumors suggest that won't be the case. Back in May, Ming-Chi Kuo reported that the development of the modem had hit a "roadblock," and Mark Gurman reported in November that Qualcomm is expected to provide "the majority of new modems" for the iPhone 15. We should expect another Qualcomm Snapdragon modem instead, most likely the Snapdragon X70.
Analyst Jeff Pu says Apple will be bringing Wi-Fi 7 to the iPhone 16 Pro and iPhone 16 Pro Max next year.
The iPhone 14 launched with Wi-Fi 6 and not Wi-Fi 6E. Apple has since brought 6E support to the iPad Pro, MacBook Pro, and Mac mini, so we can expect Apple to bring it to the iPhone 15 lineup.
With the iPhone 16 generation though we may see an even bigger update, with Wi-Fi 7 expected. Wi-Fi 7 will deliver real-world speeds of 5.8Gbps, about 60 percent faster than Wi-Fi 6E. You will need a Wi-Fi 7 router to enjoy those speeds though.
U2 chip
iPhone 15 is said to be getting a U2 chip to prepare for Vision Pro integration. This is according to analyst Ming-Chi Kuo, who wrote the following on Twitter:
If the phone features an upgraded ultra wideband (UWB) chip it should ensure seamless integration with the Vision Pro. "The ecosystem is one of the key success factors for Vision Pro, including the integration with other Apple hardware products," Kuo explains.
The improved UWB chip many also bring additional benefits, including more accurate AirTag tracking, for example, or reduced power consumption.