Copa 71: when 112,500 fans packed out the unofficial Women's World Cup final | Women's football – NBC US
Brandi Chastain is the star of the opening scene of Copa 71, a documentary poised to change how the history of women's sport is remembered. Chastain is not talking about her famous moment in 1999, when she ripped off her shirt to celebrate winning the World Cup for the United States in front of 90,000 fans at the Rose Bowl.
Instead, Chastain is seen watching footage of another match played in front of a packed stadium. But she is trying to guess which one. "That's a massive stadium … that's a men's football match …" She stops as she sees the players.
"It's women's football? What?! OK. What year is this?"
Chastain is told by a voice off camera that the footage is from 1971.
"This is unbelievable," Chastain says. "Why didn't I know about this?"
We are all Brandi Chastain, it turns out. Why didn't we know about a women's football tournament held in Mexico in 1971, 20 years before Fifa hosted its first Women's World Cup? Or that the tournament included sold out games, each played in front of more than 100,000 paying fans? That tournament – played between teams from Mexico, England, Argentina, France, Italy, and Denmark – has until recently been one of sport's best kept secrets.
The tournament's reemergence sweeps aside a claim that a recent Nebraska college volleyball game played in front of 92,000 fans was the highest-ever attended women's sports event. No matter how huge that audience was and how much acclaim it received, the 1971 final between Mexico and Denmark was played in front of 112,500 spectators at the Azteca Stadium in Mexico City, a figure now acknowledged by Fifa's online museum.
"It's not [Nebraska's] fault or the university's social media team's fault that they didn't know about this either," says Rachel Ramsay, Copa 71's co-director (supporters of the Nebraska record had claimed their record was the highest confirmed attendance).
Copa 71, which premiered at the Toronto International Film Festival this week, tells the story of a competition that took place on an unprecedented scale. While the tournament – and its 1970 predecessor held in Italy – has been written about before, it is the color footage of matches, crowds, and off-field activity that reveals the challenge of holding the event. It also brings the players, many of whom were teenagers at the time, to life.
Ramsay and her co-director James Erskine have directed or produced sports a wide range of sports films, including Le Mans 3D, Sachin: A Billion Dreams, One Night in Turin, and Shooting For Socrates.
The pair acknowledge that, like the 1971 tournament itself, getting a film about women's football off the ground was a challenge. But Copa 71 added firepower with Serena and Venus Williams signing on as executive producers, alongside USA's Women's World Cup winning striker Alex Morgan.
"They are very keen on amplifying women's voices," says Ramsay. "Serena and Venus have invested [in women's football] and Serena's daughter is a huge soccer fan. It's a sport they are passionate about."
Fifa did not organize a Women's World Cup until 1991 but now acknowledge the first unofficial edition took place in 1970 in Italy. Organized by the "Federation of Independent European Female Football", the teams played for the Golden Angel trophy, sponsored by Italian drinks company Martini Rossi. That tournament was won by Danish football club Boldklubben Femina with a final played in front of 50,000 fans. Mexico the following year, however, was on an entirely different level.
"We first heard about the tournament during the Covid lockdown but there was nothing on the internet about it," says Ramsay. "There wasn't even a Wikipedia page [there is now]. It had completely dropped out of the bottom of history. How could something this big just disappear?"
Ramsay and Erskine dug deep into the archives of Mexican newspapers, interviewed people who were there at the time, and unearthed scrapbooks, posters, and ticket stubs from the tournament. It was held one year after Mexico hosted the 1970 men's World Cup, which was won by a brilliant Brazil team that starred Pelé. Mexican media giant Televisa was keen to maintain commercial momentum after the 1970 World Cup and the 1968 Mexico City Olympics. Why not hold a World Cup for women – but make it huge?
Importantly, this was a time when organized women's football was either banned or emerging from bans imposed by governing bodies. For example, the Football Association in England banned women's football from grounds it controlled in 1921. It only lifted that restriction in late 1971, while a ban in Brazil on women playing organized football remained until 1979.
But Televisa was not trying to promote gender equality. The 1971 tournament was business. There was money to be made from women's football. Fifa, though, was against the tournament and threatened the Mexico Football Federation with fines and bans if it allowed games to be played in stadiums it controlled.
The English FA wrote to organizers saying they would not endorse an England team participating in the tournament. But Televisa had a very large ace card. The company owned the Azteca Stadium in Mexico City and Guadalajara's Jalisco Stadium. Televisa could do whatever it wanted in its own facilities. They just had to fill them with fans.
"One of the issues has been that marketing people, even recently, thought that they should market women's soccer to mums and daughters," says Erskine. "What they eventually discovered is that you should market football tournaments to people who like football regardless of gender."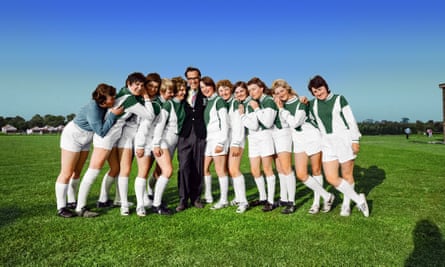 Televisa threw its media muscle behind the promotion of the tournament. Martini Rossi again signed up as a major sponsor.
"It is interesting to go back to 1971 and see the crowds full of women, full of children, and full of men," says Erskine. "It was a national event. Just like the Olympics in 1968 and the 1970 World Cup. There was a culture in Mexico at the time of having pride in the nation, representing at sporting events, and having a fiesta. Copa was a big carnival and a big party. One that was highly successful."
Erskine says comparisons with the Nebraska volleyball game are a distraction. What is important is the fact that women's sport will attract fans if events receive adequate investment and promotion.
"The question isn't whether there are 99,621 or 99,672 people at games," he says. "What matters is that there is a volume of people attending an event and paying for it. There was a big question of whether the people at the 1971 games paid for tickets. But they were paid for and the games were sold out."
Ramsay adds: "We have the posters and ticket stubs. They were the same price as the tickets for the men's World Cup in 1970. Some were even more expensive."
The tournament had the obligatory mascot – Xochitl, a pigtailed girl with a ball tucked under her arm – and confidently welcomed fans "to the greatest ever celebration of women's football: the 1971 women's World Cup".
Former Fifa president Sepp Blatter once called for female players to wear "tighter shorts" but that wasn't an original idea – even if it was a terrible one. Not that some of the innovations in 1971 were any less dismal. Ramsay and Erskine don't shy from highlighting some aspects of the tournament marketing that would fail to get traction in 2023. Players were presented as "pretty girls" and dressing rooms were to include beauty salon "so the girls can present themselves for interviews and public ceremonies complete with false eye lashes, lipstick and an attractive hairdo", according to a 1971 article in the New York Times. The tournament apparently saw players' shorts that resembled hot pants – a fashion at the time – although the shorts seen in match footage are no different from 2023 standards. The New York Times was so enamored by the idea of women's football that its article on the tournament was headlined "Soccer Goes Sexy South Of Border".
The games themselves had enough standalone drama for their own film. Footage shows high quality competitive matches, evidence that this was not a novelty kickaround, and the film shines a light on a pay dispute – still relevant 50 years later – as well as allegations of match-fixing. A mass brawl that took place between players in a semi-final between Mexico and Italy triggers ill feeling that still lingers today. There were also some excellent individual performances: Denmark won the final 3-0 thanks to a hat-trick from 15-year-old Susanne Augustesen.
"This was a collective experience for all the women," says Ramsay. "They were all from different parts of the world but they all said that when they were growing up they believed they were the only girls in the world who wanted to play football and that there was something wrong with them. Then they get to Mexico and this other world exists – like stepping into a parallel universe."
"It is indicative of how powerless the women felt at the time to keep telling their own story. All sports are a mirror to the rest of society. When we talk about Fifa [not officially recognizing the tournament] it is that it's a representative of the establishment. This is reflective of the attitudes at the time and how those attitudes continued. The women who have been voiceless for 50 years are now on screen and given the chance to tell their story."