Concern over the highly evolved omicron subvariant BA.2.86 is easing as the first batch of preliminary studies on the virus suggests it may not be as immune evasive or dangerous as its numerous mutations suggest.
But the good news is tempered by the latest COVID-19 data, which shows increasing rates of hospitalizations, emergency department visits, and deaths—all driven by the current gang of circulating omicron subvariants, led in the US by EG.5, FL.1.5.1 and XBB.1.16.6. No single variant is dominant globally, though EG.5 is on the rise.
In the US, hospitalizations are up nearly 16 percent since last week, and deaths have risen almost 18 percent in that time. Test positivity is also on a steep incline, according to the latest Centers for Disease Control and Prevention data.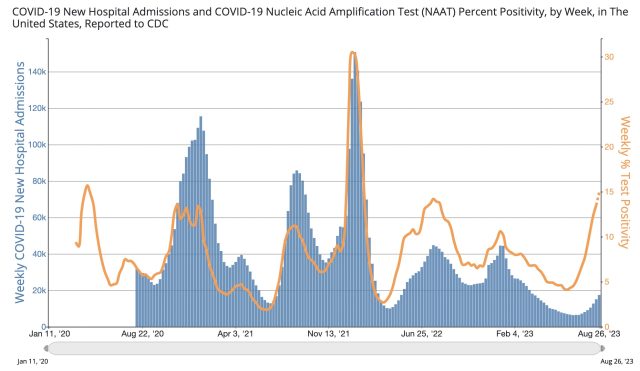 Although the COVID-19 numbers are still low relative to other waves of infection, surveillance systems and testing have plummeted to worrying levels, meaning the true burden of the disease is likely underestimated. And the current wave is hitting ahead of fall booster availability, raising concern for those most vulnerable to the virus.
"One of [the World Health Organization's] biggest concerns is the low level of at-risk people who have received a dose of COVID-19 vaccine recently," WHO Director-General Tedros Adhanom Ghebreyesus said in a press briefing Wednesday. "Our message is not to wait to get an additional dose if it is recommended for you."
According to reporting by NBC News, the US Food and Drug Administration could sign off on fall booster doses as early as this Friday, though the timeline could slide into early next week. The CDC is expected to sign off on the shots quickly after that.
Data so far suggests that those fall boosters—designed to target XBB.1.5—are effective against the current leading variants, namely EG.5 and FL.1.5.1. In a press release Wednesday, Moderna said that its booster is also effective against BA.2.86. According to preliminary clinical trial data, the vaccine generated an 8.7-fold increase in neutralizing antibodies against BA.2.86.
Experts are still unsure of how BA.2.86 will play out—whether it will take over, fizzle out, or further evolve into a nightmare variant. The remarkably large number of mutations it has now and its seemingly abrupt international spread raised alarm last month. But in the weeks since, the mutated omicron subvariant remains a rare find. As of the time of publishing, researchers from only 12 countries had reported just 64 BA.2.86 genome sequences out of the thousands of SARS-CoV-2 sequences submitted from around the globe each week. Meanwhile, about 30 percent of the sequences submitted recently are EG.5, Maria Van Kerkhove, WHO's COVID-19 technical lead, said Wednesday.
BA.2.86 "is not outcompeting any of the variants of interest right now or other variants that are in circulation, and this is what we're looking out for," Van Kerkhove said.
The latest data
Three new studies out in the last few days—all pre-prints that have not been peer-reviewed—may help explain why the subvariant has stayed mostly on the sidelines. Collectively, the studies suggest BA.2.86 may not be as good at infecting human cells as the other currently circulating subvariants, and its mutations are not enough to overcome the high levels of immunity built up from past infections and vaccinations. While the preliminary data is heartening, researchers caution that BA.2.86 can continue to evolve, and—with our severely diminished COVID monitoring systems—we may have dodged a bullet.
One of the pre-print studies, from researchers in China, found that BA.2.86 was not as efficient at infecting cells in the lab compared with other circulating omicron subvariants, namely XBB.1.5 and EG.5. "In sum, it appears that BA.2.86 has traded its infectivity for higher immune evasion during long-term host-viral evolution," the researchers concluded. But, they cautioned: "Close attention should be paid to monitoring additional mutations that could improve BA.2.86's infectivity."
A pre-print study from researchers in Sweden, meanwhile, looked at how well serum from blood donors could neutralize BA.2.86 compared with XBB.1.5 and BA.2, the omicron subvariant from which BA.2.86 descended. Though they saw dips in neutralizing levels against BA.2.86 compared to the other variants, they weren't as severe as originally feared. In one analysis looking at the most recent serum samples—taken while XBB variants were circulating—neutralizing antibody levels against BA.2.86 were slightly lower but still pretty strong compared with levels seen against XBB.1.5. The modest drops against BA.2.86 paled in comparison to the extreme immune evasion seen when the original omicron subvariant arose in the background of the delta subvariant, leading to a massive wave of infection at the start of 2022.
The third preprint study, led by researchers in Boston, came to a similar conclusion as the Swedish study. The US-based group looked at neutralizing antibody responses from 66 people (44 who got a bivalent booster last year and 22 people who hadn't gotten boosted.) Across the board, neutralizing antibody levels against BA.2.86 were significantly lower than those to BA.2, but "were comparable or slightly higher" than those seen against a slew of other circulating omicron subvariants, namely XBB.1.5, XBB.1.16, EG.5, EG.5.1, and FL.1.5.1.
In a post on X, Ben Murrell, senior author of the Swedish study and a researcher at the Karolinska Institute, concluded from their data that "[O]ur antibodies do not appear to be completely powerless against [BA.2.86]." But, he offered a word of caution moving forward: "The fact, however, that another Omicron-like emergence event has occurred, with that long unobserved branch [of evolution] and subsequent spread, should warn us against giving up our genomic surveillance infrastructure."