Ex-Prosecutor Warns Of Trump's 'Danger' To Witnesses, Jurors – NBC US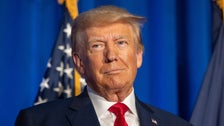 Glenn Kirschner – a former U.S. Army prosecutor and current MSNBC legal analyst – warned of the threat that Donald Trump poses to witnesses and jurors as he declared that the former president is a "danger."
"I am concerned that the judges have not yet stepped up to address the danger, the ongoing danger, the demonstrated danger of Donald Trump to witnesses, to jurors, to prosecutors, to judges and to their families," Kirschner told SiriusXM host Dean Obeidallah in an interview shared Friday.
"I hope at some point the judges realize that Donald Trump is a danger to the community and he should be detained pending trial because that will begin to neutralize the threat, in part because you'll take his megaphone away. I think we're going to be having that conversation in the months to come."
Obeidallah, on Friday, asked the ex-federal prosecutor whether Trump "eclipse[s] the concerns" he has had toward people he has tried in past cases.
Kirschner, before discussing Trump, described dealing with a criminal organization that he tied to 30 killings where there was an anonymous jury and other security measures in place due to the "danger" posed by the group.
"And guess what? They still got to some of the jurors and some of the jurors had to be dismissed mid-trial," said Kirschner, adding that he's tried cases with the "most rigorous security measures" in D.C.
"I have an even graver concern for Donald Trump because his reach is so broad, his followers are so rabid at times and so detached from reality. I'm sorry, this is a cult."