Ukraine drone attacks deep inside Russia damage military planes – NBC US NEWS
Ukrainian drones hit targets deep inside Russia in a wave of overnight strikes, officials said Wednesday, in what appeared to be the biggest attack on the country since it launched a full-scale invasion of its neighbor more than 18 months ago.
Four military transport aircraft were reportedly damaged at an airfield near the border with Russia's Baltic neighbors as strategic sites were set ablaze across the country — the latest signal that the war is increasingly playing out on Russian soil. 
Drone attacks have become an almost daily occurrence within Russia in recent months as Ukraine seeks to turn the tables on its invader in the air while pressing a counteroffensive on the battlefield. They have not led to significant damage or loss of life, but the attacks are posing a growing challenge for the Kremlin, making it difficult to keep the war distant for the Russian population. 
Ukraine stuck to its policy of not taking public responsibility for attacks inside Russia, while decrying an overnight missile and drone attack on its capital, Kyiv, that officials said left two people dead.
Nighttime barrage across Russia
Russia woke Wednesday to news that at least six regions had come under attack.
Four Il-76 transport aircraft were damaged, with two engulfed in fires, after drones struck a military airport in Russia's western Pskov region, the state news agency Tass reported.  
Pskov Gov. Mikhail Vedernikov shared a video on the Telegram messaging app that showed a massive plume of smoke and the sounds of an explosion in the background, saying the Russian Defense Ministry was "deflecting a drone attack" on the city's airport. He canceled all flights to and from the airport Wednesday until the damage could be assessed. He said there were no casualties, and that firefighters were tackling the fire.
The Pskov branch of Russia's emergencies ministry said on its website that it received overnight reports of Il-76 aircraft "on fire." It did not mention the number of planes that were reportedly burning, or any drone attacks.
Pskov sits near the Russian border with Estonia and is quite far from the front lines, some 520 miles north of Kyiv.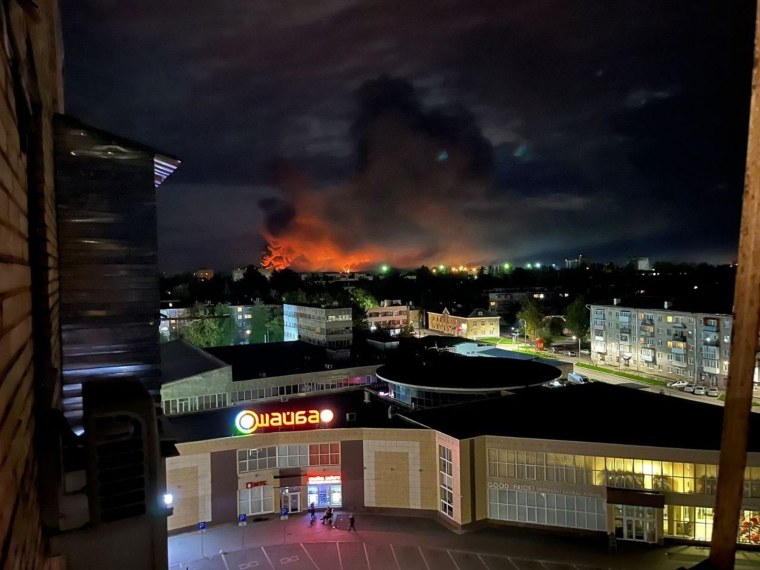 The Russian Defense Ministry made no mention of the attack on the Pskov airport in its official statements, but reported drone attacks in the Ryazan, Kaluga and Orlov regions in a series of late-night messages on Telegram. It said all drones were intercepted and did not comment on any damage or casualties. These regions lie relatively close to Ukraine but not in the immediate vicinity of the border. 
Kaluga Gov. Vladyslav Shapsha reported on Telegram that one of the drones in his region hit an empty tank for storing petroleum products, but that there were no casualties. He reported another drone attack in daytime, several hours later, but said the drone was destroyed and debris fell outside residential areas. 
Orlov Gov. Andrei Klychkov said on Telegram two drones hit his region, but there was no information about casualties or damage. He reported another drone attack in the region Wednesday afternoon.
The Defense Ministry also reported drones destroyed in the Moscow region, in a district west of the Russian capital. 
Drones were also downed in the region of Bryansk, which lies on the border with Ukraine, according to the ministry. Gov. Aleksandr Bogomaz reported seven destroyed drones in four separate attacks since midnight, one of which he said targeted a television tower. There were no casualties but an administrative building was damaged, he said. 
Around midnight, the ministry also reported destroying four high-speed military boats, carrying 50 Ukrainian "special operations forces," in the Black Sea. It later also reported destroying a similar boat near Snake Island, an important Ukrainian outpost in the Black Sea. In the occupied Crimean city of Sevastopol, Gov. Mikhail Razvozhaev reported an attack by drones from the sea in the harbor area. 
While Russia was facing its biggest aerial onslaught of the war, Ukraine's capital faced its most intense attack in months. Two people were killed and three others were injured in a missile and drone attack on Kyiv on Wednesday morning, local officials reported, calling it "the most powerful attack since spring." 
The exchanges Wednesday came exactly a month after Ukrainian President Volodymyr Zelenskyy vowed to return the war to Russia — "to its symbolic centers and military bases."
Russia blames all drone attacks on its soil on Kyiv, which normally doesn't acknowledge responsibility. There was no official reaction in Kyiv after the drone attacks Wednesday,  but Zelenskyy adviser Mykhailo Podolyak said on X, formerly Twitter, that the attack on Kyiv was "revenge for growing accidents in the [Russian Federation] itself."