Florida residents who rode out Hurricane Idalia had to 'swim out of their windows,' couple says – NBC US NEWS
Some Florida Gulf Coast residents who chose to ride out Hurricane Idalia at home instead of evacuating were forced to "swim out of their windows" to escape waves of water crashing through their front doors early Wednesday morning.
In Crystal River, the powerful Category 3 hurricane left a trail of destruction behind including toppled trees and homes and buildings almost completely underwater.
Brenda and Phil Henley, who live in Crystal River and chose not to evacuate, told MSNBC's José Díaz-Balart that some people had to swim to safety.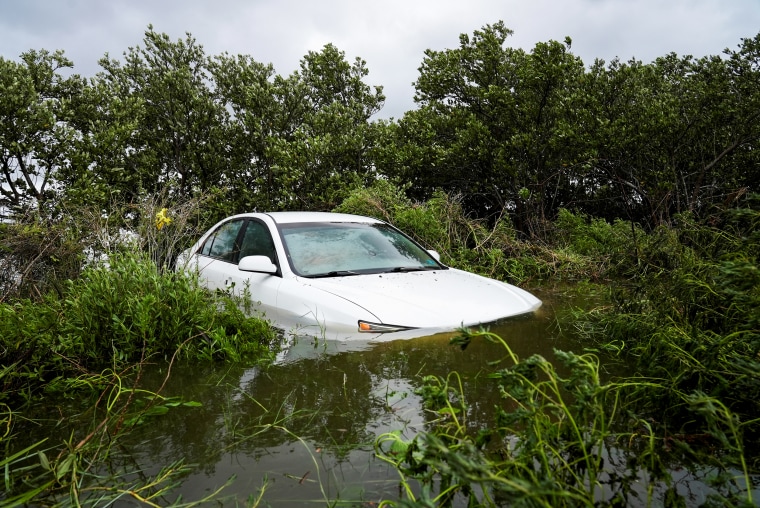 "Swimming out of their windows, literally, from their homes," Phil Henley said, adding that the water moved in fast. 
Citrus County, where Crystal River is located, was under a mandatory evacuation order for all low-lying areas west of U.S. Highway 19. The couple chose to ride out the storm at home but left once the water started coming. 
"I said we got to get out of here because we're fixing to get flooded out," he said. 
Because of how fast the water was moving, the couple feared it might have reached as high as the ceiling of their home. "I think we've lost everything," Brenda said. "I don't know."
The hurricane made landfall in Big Bend near Keaton Beach just before 8 a.m. ET, with heavy rain and maximum sustained winds of 125 mph that quickly flooded streets, damaged buildings and knocked out power for hundreds of thousands of customers. There have been two fatal weather-related crashes including a 59-year-old man in Gainesville who was driving a Toyota Tacoma in "extremely rainy conditions" when the vehicle veered out of its lane, into a ditch and ultimately crashed into a tree, officials said.
Gov. Ron DeSantis said in a briefing Wednesday afternoon that there have been no confirmed storm-related deaths.
In Cedar Key, an island city in the Gulf of Mexico, a hotel was destroyed, a road was underwater and bridges leading off the island were submerged, said Michael Bobbitt, one out of the few roughly 700 residents who stayed behind. 
"It doesn't look good. All of our commercial buildings downtown are underwater. A serious percentage of our homes have been inundated with water," he told MSNBC. "In general, our structures are in trouble. Our roads are in trouble but our community here is strong." 
Like Crystal River and other coastal communities, officials in Cedar Key ordered the mandatory evacuation of all residents in mobile homes, recreational vehicles, and low-lying areas. A majority of the residents chose to leave.
Authorities in Levy County, which includes Crystal River, said Wednesday afternoon that people should stay in their sheltered location and that search and rescue operations were underway.
Bobbitt, whose house was built on a hill protecting him from flooding, stuck around so he could help his community.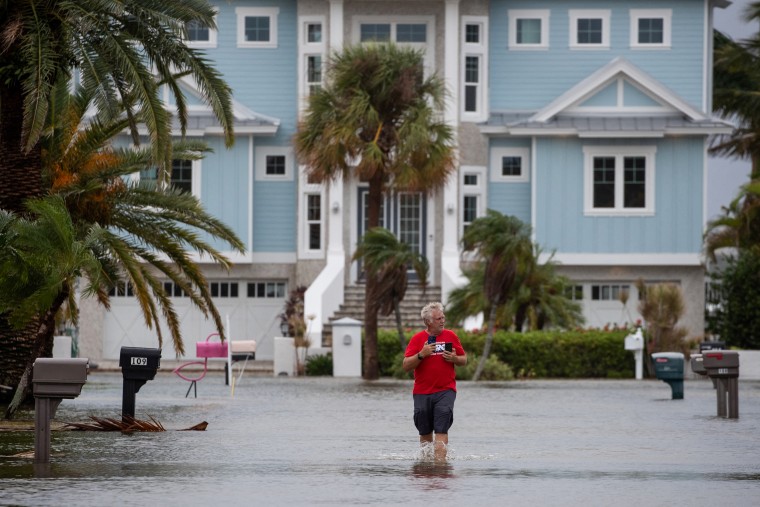 "The handful of folks that stayed behind, stayed behind because they knew no help would be coming for the folks that might need it," he explained. "Our chief of police, one deputy, volunteer fire department, the mayor and me, we've been out doing everything we can to help folks like Cedar Key always does." 
Bobbitt said he expects the water will recede enough by Thursday so bigger trucks can get onto the island with supplies.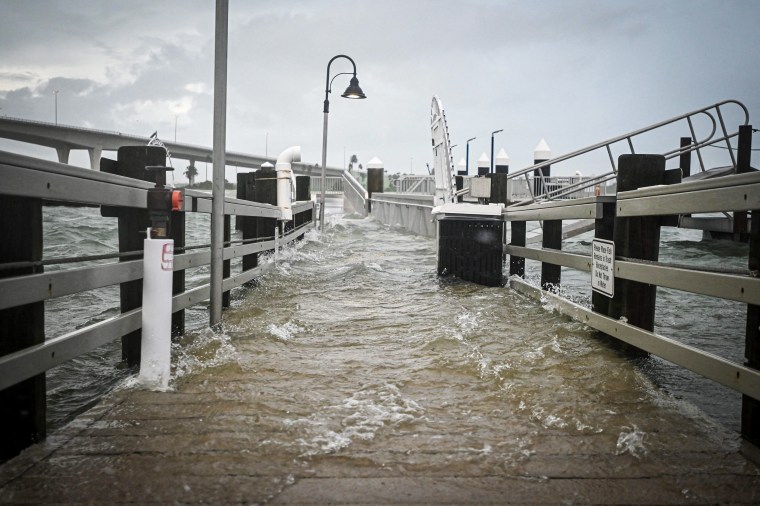 James Westerhorstmann lives right off of Clearwater Beach. Officials in Pinellas County ordered a mandatory evacuation of certain areas. Westerhorstmann, who has been through several hurricanes, said he stayed put because he knew his condominium could withstand the storm and he wanted to keep an eye on things.
He also did not want to take up space at an emergency shelter from someone who really needed it.
"There's a lot of confusion going to the shelters and I'm in pretty good shape, I've been through these," he told NBC News. "The positive thing is that we were prepared, we had a little bit of knowledge of where it was going."
Westerhorstmann, a retired Navy veteran, said he made sure his family was prepared with enough food, water and batteries. Now, they just plan to relax at home until it is safe to leave.
"We're going to sit it out, enjoy the day," he said.