Call of Duty's Lara Croft mixes classic and reboot Tomb Raider designs – NBC US NEWS

Activision has given us our best look yet at Tomb Raider's Lara Croft in Call of Duty.

The design has taken most of its inspiration from the 'Classic Lara' look of old, with her dual pistols, tank top and braid all taking pride of place in the promotional shots released so far (see header above, and image below).
This version of Lara also wears the necklace from the Tomb Raider reboot games, perhaps giving us a look at how Lara might appear in the series' future, unified timeline. She certainly looks older than the 'Survivor' timeline Lara, who we last saw in 2018's Shadow of the Tomb Raider.
Players will be able to get their hands on this Lara skin as a part of the Tracer Pack: Tomb Raider Bundle.
This pack will come with three weapon blueprints, including a version of the new melee weapon in the "Ice Axe," the "Mythic Defender" SMG, and, of course, her "Mach-5" dual pistols. The Call of Duty team has said Lara's pistols will be used in her finishing move, known as 'Play for Sport'.
The Call of Duty Tomb Raider bundle is slated to release next month, on 9th September.

Lara will be joining the chaos as part of Modern Warfare 2 and Warzone's season 5 Reloaded content drop.

The team has stated this new season, along with season six, will be a "golden opportunity" for players to prepare for its next game in the series, Modern Warfare 3 (which was officially announced earlier this month after numerous leaks).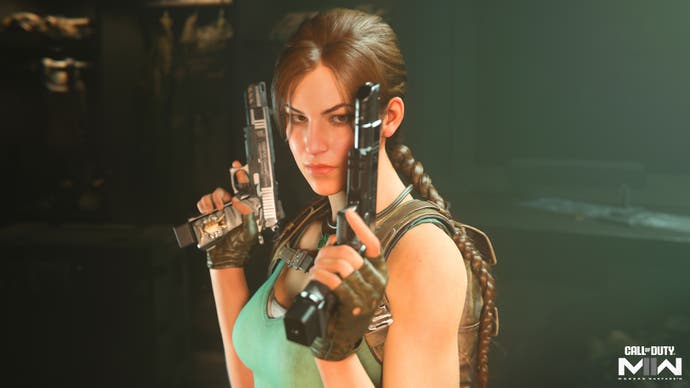 For those playing on Xbox, don't expect to see Call of Duty popping up on Game Pass as soon as the ink dries on Microsoft's proposed Activision Blizzard deal (if it dries, that is – of course nothing has been confirmed as yet).

Earlier this month, Phil Spencer stated that there is a lot more work to getting games onto Xbox's subscription service than many may realise.

"So, for people who think like, 'the deal is going to close, and then everything's available on Game Pass' – that's not true," the exec stated when asked about Activision's shooter coming to the service.