Autoworkers Authorize Strikes Against Ford, General Motors And Stellantis – NBC US NEWS
The United Auto Workers said Friday that members voted overwhelmingly to authorize the union to call strikes against Detroit's Big Three automakers if they fail to reach new contracts next month, forcing the next major showdown in a year of U.S. labor unrest.
The UAW's agreements with Ford, General Motors and Stellantis North America all expire the night of Sept. 14. The union said that 97% of members who cast ballots were in favor of walking off the job if their demands aren't met by then. Specifically, 98% of workers at Ford, 96% at GM and 95% at Stellantis approved of authorizing strikes.
The strike vote does not guarantee work stoppages will happen, but it puts them on the table if the UAW isn't satisfied with negotiations.
Shawn Fain, the union's new president, hammered the automakers in a video conference Friday, saying they were riding high on profits while workers scraped by.
"The Big Three don't care about workers or consumers," Fain said. "They only worship at the altar of profits."
He added, "They can't stand that we're finally fighting back."
This week, union leaders started joining workers in "practice pickets" held outside auto plants — demonstrations meant as a show of strength and solidarity as the contracts' expiration nears. Fain has called Sept. 14 a "deadline, not a reference point," maintaining that the union will call strikes rather than extend negotiations if deals haven't been reached.
"They can't stand that we're finally fighting back."

– UAW President Shawn Fain
The UAW has 150,000 members working under the contracts at Ford, General Motors and Stellantis, which owns the Dodge, Chrysler and Jeep brands. Negotiations for new four-year contracts at all three companies began in July.
According to the union, the automakers' juicy profits mean they can afford to pony up for significant raises. Fain rolled out an ambitious economic proposal for contract talks earlier this month, including an immediate 20% pay hike followed by 5% annual increases, The Wall Street Journal reported.
The union is also demanding that the automakers eliminate any "tiered" compensation schemes in which workers earn different rates for the same work.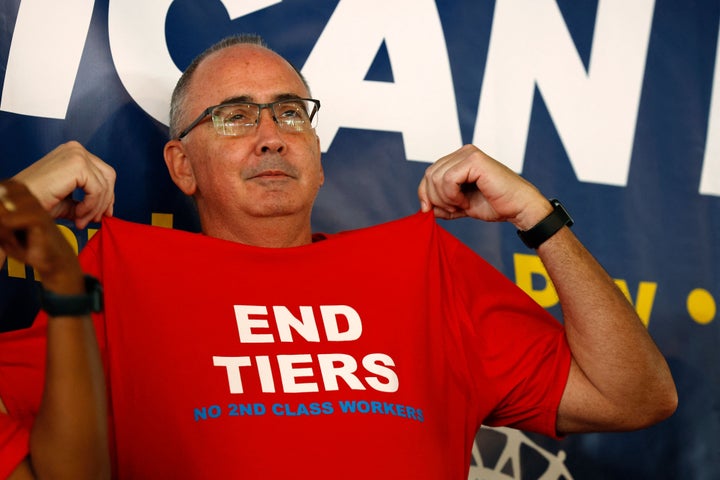 Fain insisted that the union is not asking for too much.
"The last 10 years have been the most profitable in Big Three history," he said. "Instead of investing that profit in us, the workers who made it, they squandered it on giveaways to rich investors and the CEOs."
Compared with his predecessors, Fain has taken a more militant approach to talks with the Big Three.
He won the union's top position earlier this year as an insurgent candidate who argued that the UAW had given automakers too many concessions over the decades. The union had just recently switched to a system in which members would elect their leaders directly rather than through delegates, leading to the ouster of the union's long-empowered "administrative caucus."
Signaling a break with the past, Fain declined to publicly shake hands with the Big Three's chief executives to open this year's negotiations. Instead, Fain and other leaders did a "members' handshake" and greeted workers at assembly plants.
The union said it recently increased strike pay — money that workers would receive through the union during a work stoppage — to $500 per week. The UAW said it has $825 million in its strike fund.
The autoworkers' contract fight is one of several high-profile labor battles this year. Hollywood writers have been on strike against studios for more than 100 days, and Hollywood actors for more than 40.
During his conference Friday, Fain said the UAW supports those workers in their fight, adding that companies across industries are trying to drive down wages.
"You have our backs and we have yours," he said to the writers and actors.