Andy Murray claims his Wimbledon scheduling request was ignored | Tennis – NBC US NEWS
Andy Murray has said he asked Wimbledon organisers this year not to schedule him as the final match on Centre Court every day because of concerns over late finishes. Wimbledon, however, did not grant the request and late scheduling had a significant bearing on his exit from the Championships.
In his second-round match against Stefanos Tsitsipas, Murray led the third seed by two sets to one before the match was postponed as the curfew approached. They returned the following day, with Tsitsipas winning the final two sets to take the match.
"I had multiple conversations before the start of the tournament and asked not to play the third match every single day because that's what is going to happen with the 1.30 start and the breaks in between the matches," Murray said. "The roof, in my opinion, was there for when it rains – that there is always matches that can go on for the fans and for TV and everything and it's great.
"It feels like it's getting used now for darkness to play matches later in the evening and when you get that third slot you have no way of practising on an indoor grass court. It's not possible. You spend your whole time preparing for Wimbledon – I skipped the French Open to prepare to play my best tennis at Wimbledon – but then you're playing every match under different conditions than what you're preparing for."
As Murray prepares for his US Open first-round match against Corentin Moutet, the topic of Wimbledon's scheduling was revived after discussions about matches regularly being played late at night. Murray – who competed until 4.05am in his win against Thanasi Kokkinakis at the Australian Open in January and struggled to recover for his third‑round match just over a day later – was also critical of tournaments allowing matches to run so late.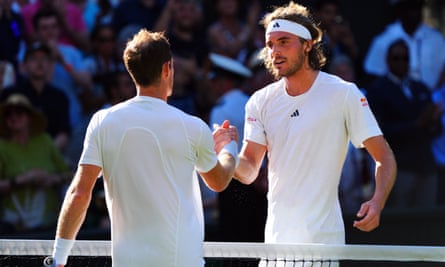 "I don't think it helps the sport that much when everyone's leaving because they have to go and get public transport home and you finish a match like that in front of like 10% of the crowd. You don't see it in other sports so it's clearly wrong," he said.
Britain's Jack Draper, meanwhile, will continue his comeback on Tuesday from a serious shoulder injury after being forced to miss Wimbledon. Having endured numerous injuries this year, his ranking falling significantly, Draper said this has been an extremely challenging summer.
"Not only having the injury but, that's the thing, you kind of feel so out of it, watching it on TV and motivated to be there but I can't," he said. "And then I'm not sure about when I'll be back playing. And it's not like football where you sort of get injured and you can hide behind the team and do your rehab, get paid and stay in the first team when you come back. My ranking dropped a lot and I'm going to have to work my way up again.
"And that's fine. But it's definitely mentally very challenging having missed so much tennis this year, for sure."
Draper had a minor scare last week, retiring from his second-round match at the Winston-Salem Open. He said he was feeling like himself, prompting him to attempt to serve at full power, leading to his shoulder stiffening up. The 21-year-old will face the unseeded Radu Albot in the first round.